From dealing with clients to running errands, it's not easy to juggle everything, especially for working parents with tiny mouths to feed. If you're one of those people I have just described, now give yourself a pat on the back for winging it! Seeing my sister doing it with three kids in tow… I think I'll stick to taking care of myself for now 😬
So, last week, I decided to kidnap my sister and take her away for a facial treat! It's about time she rewards herself with a well-deserved break from all things routine. Told her to put on that fancy schmancy outfit she had been neglecting behind piles of t-shirts and doll herself up.
And boyyy, this hot momma looks like she's gonna paint the town red! I decided to take her to Beauty & Co. for a little perk-me-up. I heard really nice things about their Rose De Hydra Facial and thought of giving it a shot. Here's my review of my previous visit to Beauty & Co.
Beauty & Co - The vibe
Cozy as hell. Decorated with warm-hued tones, dark wooden surfaces and gold-coloured accents, the space is light and airy with overhead lighting and modern furnishings. The contemporary eastern decor gives the impression of traditional elements in the services and treatments offered at the Beauty & Co.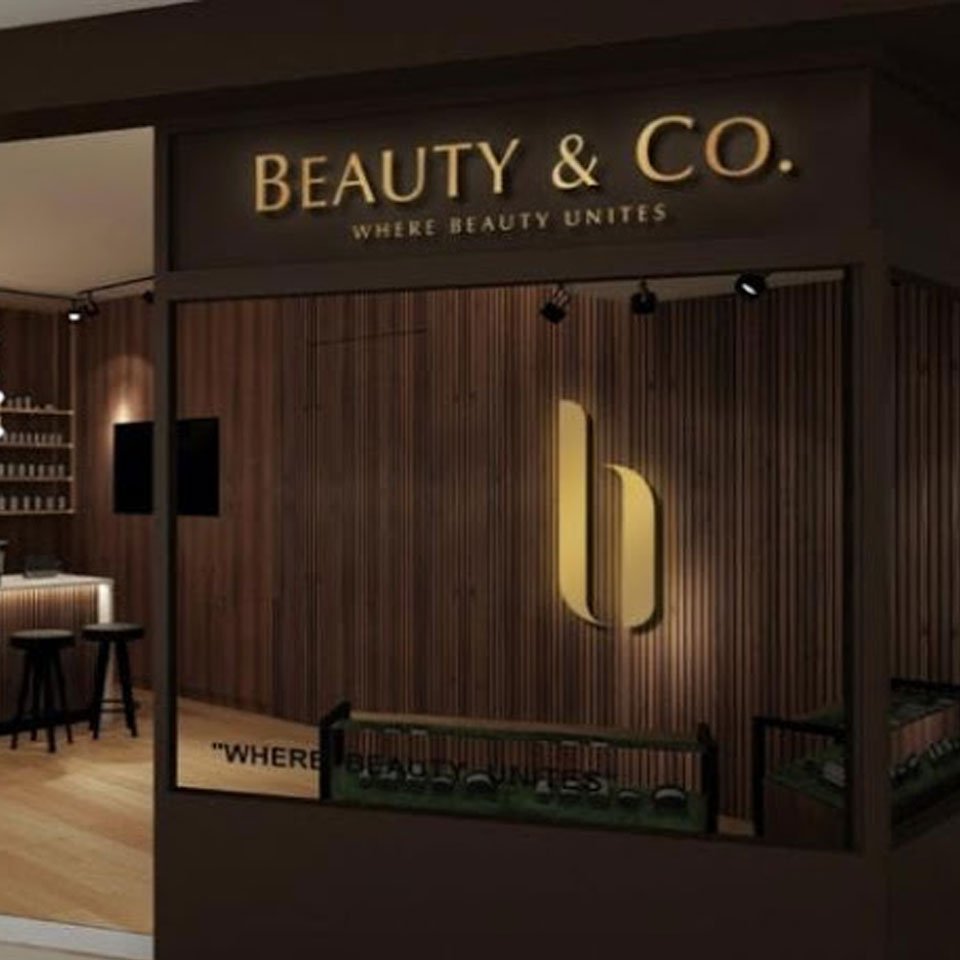 Is it for my skin?
If your skin is congested to the brim and dry as the Sahara dessert, then this is for you. The Rose De Hydra Facial does not just smell like roses, it makes mine and my sister's skin look dewy like roses in the morning!
How does it work?
Upon arrival at the centre, we were ushered into a private room for a quick consultation to determine what's the best treatment for us. Both of us specifically requested for Rose De Hydra Facial 🌹
The facial is infused with rose extract and Hyaluronic Acid from France to moisturize, nourish and rebalance the skin and includes these services:
・Extraction
・Massage
・Machine-based treatment
・Mask application
Since we're already there, we decided to add on Ampoules Application for RM 50 and RF Machine Treatment for RM 100. Cos, why not? 🤷🏻‍♀️
Best part?
The rose mask feels so cooling on the face and calms down my redness almost instantly. I don't normally like sticky and gooey stuff on my face but the pinky concoction feels amazing!
Is the result noticeable?
Yes, yes, yes! Immediately, your skin looks clear and glowing. My skin feels supple and smooth to the touch. The best part is, this effect lasts for days!
I am sooo going to make a visit to Beauty & Co. a monthly routine.
📍 Petaling Jaya UG-22A, Paradigm Mall, No 1 Jalan SS 7/26A, 47301 Petaling Jaya
Waze: Beauty & Co@Paradigm Mall (Click here to view on Google Map)
⏰Mon - Sun 10:30 - 20:30
---
Not a fan of roses?
If roses are not your cup of tea, here's my suggestions to other outlets which offer superb services. You can count on me if you need facial recommendations 😌
181 Face Aesthetic
With over 20 years of experience in professional aesthetics, 181 Face Aesthetic is the crème de la crème of beauty centres!
This beauty salon cum aesthetic clinic uses the latest technology to treat your skin, so rest assured that you won't have to go through bizarre treatments in the name of beauty!
GOOD NEWS to males who are reading this: 181 Face Aesthetic is offering Men Skin Repair Treatment for only RM 88!
And If you bring your buddy along, the second person only needs to pay half of the price, so the total will only be RM 132 instead of RM 176!
📍Cheras 181, Jalan Dataran Cheras 9, Cheras Trader Square, Balakong 43200 Cheras, Selangor
Waze: 181 Face Aesthetic (Click here to view on Google Map)
⏰Mon 10:00 - 20:00
Tue 10:00 - 20:00
Wed 10:00 - 20:00
Thu 10:00 - 20:00
Fri 10:00 - 20:00
Sat 09:00 - 19:00
Sun Closed
---
Heavenly Spa
Just as the name describes, the Heavenly Spa is a heaven for relaxing and pampering.
Their signature Hydro Bright Facial is enriched with Cucumber and Aloe Vera properties that provide loads of hydration to your face.
You'll get to indulge in:
・A flower tea welcome drink
・Makeup removal
・Double Cleansing
・Face Exfoliation
・Extraction
・Eyebrow shaping
・Face massage
・Cucumber Hydro face mask
・Neck & Shoulder Massage
・Day Care Application
・Hydrating sun care
And the best part is, first-timers only have to pay RM 99* instead of their original price RM 530. That's a whopping 81% reduction from the original price!
📍Subang Jaya 25, Jalan USJ 10/1F, UEP Subang Jaya, 47620 Subang Jaya, Taipan, Selangor
Waze: Heavenly Spa (Click here to view on Google Map)
⏰Mon 10:00 - 19:00
Tue Closed
Wed 10:00 - 19:00
Thu 10:00 - 19:00
Fri 10:00 - 19:00
Sat 09:00 - 18:00
Sun 09:00 - 18:00
*On weekdays only. Increment of RM 30 for weekend visits.
---
KS Beauty Wellness
This one is the real deal. If you're looking for something affordable yet worthy of your time, KS Beauty Wellness is perfect for you!
With two branches in Kepong and Bandar Sri Damansara, this one-stop beauty centre offers various facials, body treatments, and spas.
My personal favourite is the Super Hydration Facial Treatment which includes:
- Head Massage
- Make up Removal + Cleansing
- Exfoliation + Steam
- Blackhead Removal
- Hydrating Mask application
- Face Massage
- Shoulder relaxation
- Day care (Toner and moisturiser application after face cleansing)
And the best part is - the treatment is only RM 320 RM 98! That's about 70% off the original price when you book using my fav FunNow app! 😉
📍Bandar Sri Damansara No 4, Jalan Tanjung SD 13/1, Bandar Sri Damansara, 52200 KL
Waze: KS Beauty Wellness (Click here to view on Google Map)
⏰Mon 10.30 - 20:00
Tue 10.30 - 20:00
Wed 10.30 - 20:00
Thu 10.30 - 20:00
Fri 10.30 - 20:00
Sat 9:30 - 19:00
Sun 9:30 - 19:00
📍Kepong No 19, Jalan Metro Perdana Barat 2, Taman Usahawan Kepong, 51200 Kuala Lumpur
Waze: KS Beauty Wellness (Click here to view on Google Map)
⏰ Same as Bandar Sri Damansara branch
At this point, if you're still contemplating which one to choose from these amazing line-ups, just go to all of them!
You're welcome.