SO, since my last post, do you now know which type of manicure you would prefer?
If you are thinking of attempting to paint your own nails at home, you could - though it'd be a challenge, truth be told (I tried & I failed). Just to name a few dramas that happened to me (cos I'm pretty clumsy) are uneven finishing, missed spots, spilled nail polish on my couch (yaiks), poor hand coordination and sitting still without getting the nails smudged during the drying process that takes foreverrrr!
So, I have come to the conclusion that I'd let the pros do the job and it doesn't actually have to cost much at all when you've got FunNow right at your fingertips, seriously.
As promised from my previous post, here's to name a few of my favourite nail salons that help add a little splash of colours to my life because self-love is important. The order of the list does not indicate its importance - I love them all equally!
---
Candy Nails Services 🍭
Candy Nails is a small but cozy nail salon located in the ever-booming Bandar Puteri Puchong. While it is only half the size of a regular shop, it makes good use of the limited space to provide patrons with a comfortable setting. With a pink picturesque interior, you'll definitely feel pretty in this aesthetically pleasing nails salon with its pink chairs and walls.
Their gel manicure costs only RM 68 😮 and it even comes with two complimentary nail arts. (What a steal!) 🙊
Now now, don't be confused by their girly pink interior design that all they do is the sweet girl-next-door stuff!
You'd be happy to know that they have nail art designs catering to styles ranging from rock, luxury, elegant, character or even minimalists who prefer nude colors. This is why I 💛 them!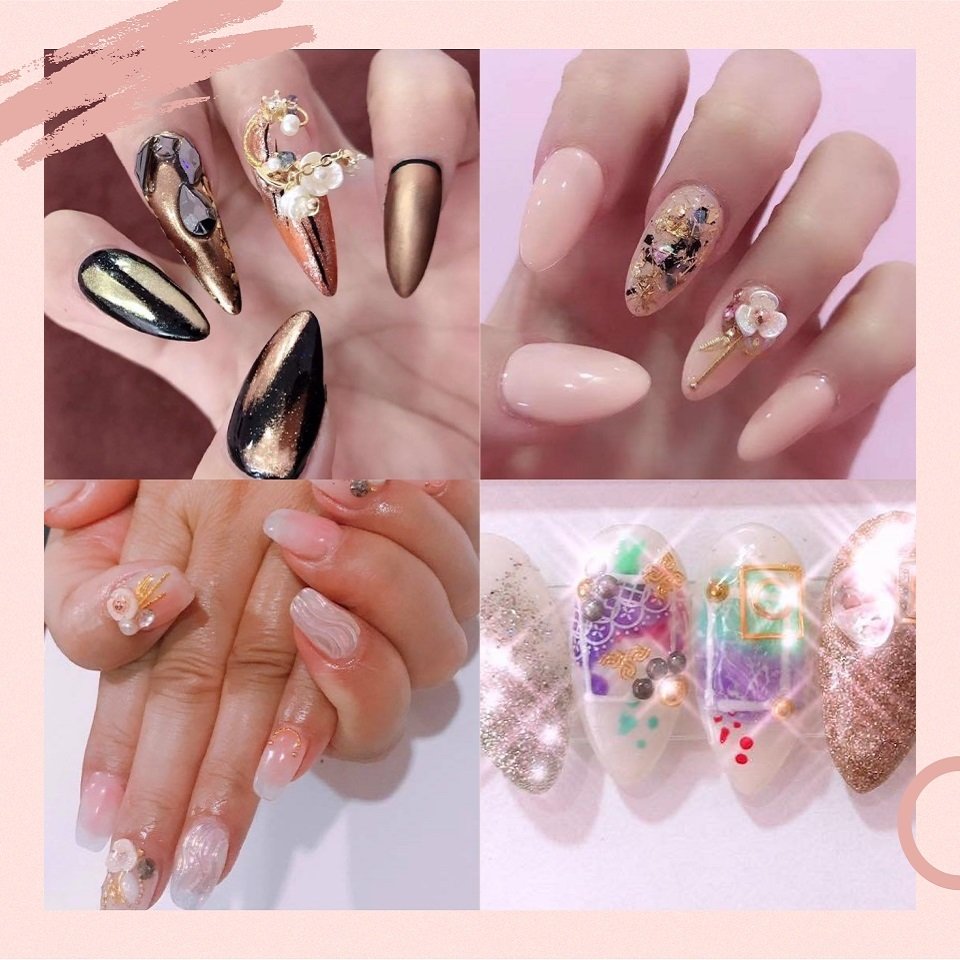 So, check them out now!
📍20, Jalan Puteri 2/2, Bandar Puteri, 47100 Puchong. (It's in the same row as Magicboo if that helps!)
---
Diamond Nail+ 💎
Regular visitors to EkoCheras Mall are probably familiar with Diamond Nail+, it is located right in there which means you need not worry about parking if you are driving. Or if you are taking the MRT, it has a dedicated covered link-bridge on the first floor directly connecting to Taman Mutiara MRT Station. I am not a big fan of the ☀️ and would do all it takes to avoid it at all costs 😬
You can even spend half a day at EkoCheras Mall because they've got a pretty good selection of F&B outlets (I enjoy going to Nanyang Cafe for some authentic Hong Kong style lunch!), some apparel brands and Village Grocer to pick up some groceries too. And when your feet are sore, get some rest and pamper your nails at Diamond Nail+.
Diamond Nail+ is also in the list of the OLs' favourites because of its elegant nails design at affordable pricing. Single color gel manicure is only for RM 78. Tips for you: One of the top 2020 nail trends is simply neutral style. Elegant neutrals never go out of style according to nail trends experts. This minimalistic design will absolutely brighten up any of your OOTD and it's perfect for all skin tones.
📍Lot S35, EkoCheras Mall, Jalan Cheras, 56000 Kuala Lumpur, Cheras
---
Diamond Nail Studio 💎
A sister branch of Diamond Nail+, Diamond Nail Studio is located within the bustling Dataran C180, Cheras where AEON Cheras Selatan is just a stone's throw away, literally.
While the interior designs for both the studios are of minimalist style, which definitely appeals to those who like things simple yet chic, Diamond Nail Studio created a beautiful monochrome look & feel, with a black and white theme, forming a perfect harmony that creates a soothing and refreshing environment.
So over at Diamond Nail, I'd recommend giving the marble design a go cos it's cool! It isn't too over the top, subtle yet not boring! It looks good even on short nails!
📍No 3-1, Jalan C180/2, Dataran C180, 43200 Cheras
---
Mystical Lab 🔬
If you are looking for a one-stop salon to get your nails, face, eyelash done, Mystical Lab has them all under one roof to help save your time from travelling from one location to another. In addition to nails, they offer facial, eyelash extension, waxing service as well as eyebrow and lip embroidery service.
Gel nails and nail art usually come with pricey tags, but Mystical Lab lets you try it out without having to break the bank. Even better when you've got FunNow app to get the best out of your dollar!
For your first trial, you can get a Gel Manicure and Gel Pedicure (Yes, you're right, including your hands and feet!) for only RM 68.
Another tip: If you are undecided on a standout among a few colors that spark your interest, pick tonal manicures design, it's also one of the top 2020 nail trends!
If you are a denim lover like me, you just can't resist to this denim tonal design 💙
Getting your nails painted with all your favourite colors will be a great mood-lifter for dreary, rainy days. ;)
📍45-1, Jalan Dataran Cheras 2, Dataran Perniagaan Cheras, 43200 Cheras
---
Yep yep there you have my top favourite nail salons so go check them out! Be sure to get on FunNow to grab the best deals!
Follow FunNow on for updates:
Facebook: FunNow Malaysia
Instagram: funnow.my
Twitter: FunNow_my