Hi again, it's Jenn here!
The other day, my sister who has just started college asked me about manicure and pedicure (mani & pedi in short). It took me a second to sink and realize how times have gone past and my baby sister has now grown into a young lady seeking beauty advice! ❤️
Anyways, that got me wondering perhaps I could share about it here cos if you are new to mani or pedi, you probably have the same questions but just too shy to ask *typical Malaysians*. Not to worry, Jenn to the rescue! 🦸🏻‍♀️
So here's a quick lesson 101 for you if you've never ventured into this amazingly addictive, aesthetically pleasing, mood-lifting part of the beauty world. 🌹
First things first, a manicure is basically having your fingernails go through a cut, shape, trim and polish process while pedicure is the same thing, except that it's for toenails.
So the Big Question: Which one is right for you - Classic or Gel?
Before we get there though, let me paint a picture of what a Classic Manicure is and what it's like.
---
What's a Classic Manicure?
It typically is the starting point for most of us when it comes to prettifying our nails. You can almost say it's a 'traditional' way of applying nail colour and nail care. The service usually starts with cutting and shaping the nails followed by trimming away the cuticles (those tiny bits that stick out from around your nails).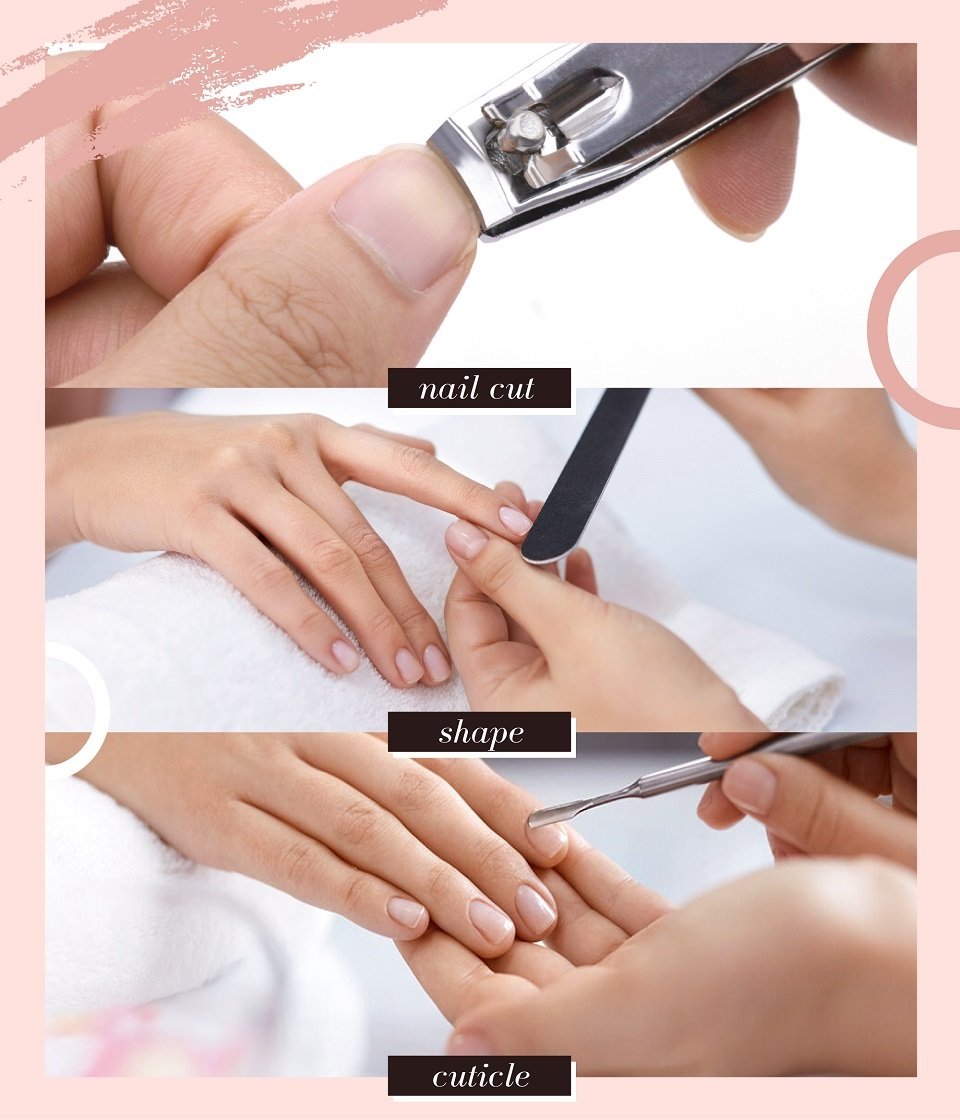 During this time, you will be shown heaps of colour charts with nail polish colours painted on artificial nails to give you a better idea on how it looks on your nails. This part always gets me excited 🤩 and dilemmatic 😕! I'd always have trouble choosing what I want cos they're all so pretty! Good luck if you're indecisive like me 😬
Next is painting a clear base coat followed by your chosen nail polish and lastly a clear top coat. At every step of the way, your nails will be placed facing towards a mini fan to speed up the drying process. The entire process from start to getting the polish dried could take up to an hour plus or so, depending on how fast the nails can dry up and the speed of the therapist.
Base coat, top coat…. What?? 🤨
Let me explain. Base coat is important because it helps to keep the nail polish on longer, giving a more even texture and serves as a barrier to protecting your nails from nail polish. It prevents staining and peeling too!
Similarly, a top coat helps to prevent chipping of the nail polish and gives it a glossy finishing. And that means you get to see your pretty nails longer, possibly beyond its usual 7 days lifespan after which you can simply pick up a bottle of nail polish remover or acetone from any pharmacies or beauty stores! Just dab some of it on cotton pads and rub it on the nails to remove the 'leftovers'. Tip: My favourite is Sally Hansen's nail polish remover.
Who needs a Classic Manicure?
Well, if you're on a budget but still wanna look perfect for that interview or your bestie's special day, a Classic Manicure would be a good option! They're also great for you if you wanna change over to another colour to match outfits for different occasions. 👗👙👘
One question my sister asked which I thought is pretty valid. Does it damage the nails? The answer is nope. Instead, with regular nails and cuticles trimming, it can help in reviving your nails, keeping them hydrated and healthy! Perfect, isn't it? 😉
---
What's a Gel Manicure?
Now onto Gel Manicure - the one that I've gotten pretty used to over the years!
Contrary to a Classic Mani, you have a wider range of choices when it comes to the nail finishing such as metallic, ombre, pearlescent among other finishing textures. Also, it feels a bit more 'futuristic' because once nail polish is applied, your nails are placed under UV or LED light to speed up the drying process. Gel Mani works the same as a Classic Mani in terms of process but with the addition of a gel polish cured under UV light twice, then the top coat is applied to cure the nails. One thing good to know is that it takes about half the time of a Classic Mani - talk about efficiency! ⚡
The cool thing with Gel Mani is that it can last anywhere between 3 to 4 weeks! The removal process though, it is recommended to return to the salon as it requires some skills and soak-off to have the gel polish removed without damaging the nails.
Now, is Gel Manicure for you?
If you are the on-the-go type, you will probably find that a gel manicure holds up much better against wear and tear or if you have a bunch of back-to-back stuff happening, Gel would be the perfect solution for those special occasions. They are also perfect for those who prefer to stick to a nail art design for longer.
What's more, Gel shouldn't affect nail health if done and removed professionally. You may risk damaging your nails when the polish is accidentally peeled, chipped or lifted if you try to do it on your own! So be warned! ⚠️
---
I hope I haven't bored you to death! 😵 I'll share more of some of my favourite ❤️ nail salons that I normally frequent (thanks to FunNow 😍) in my next post! Stay tuned!
Facebook: FunNow Malaysia
Instagram: funnow.my
Twitter: FunNow_my