The renowned Michelin Guide has announced its 2019 star-winning restaurants in Taipei on 4/10. With new restaurants poping up on the list, let us not forget that no restaurant from last year lost a single star. Now, as you may have noticed, some of these quality guaranteed restaurants are available for reservation on FunNow.
Thanks to Taiwan Scene, we now get to see what's like to dine in these top notch restaurants. The below content is written by A Hungry Girl in Taipei under the partnership she has with Taiwan Scene, from which the original content is found: Celebrating Michelin Gastromonth in Taipei.
A Hungry Girl in Taipei Eats her way through Michelin
2018 was the first year Taipei got its very own edition of The Michelin Guide, awarding 20 restaurants with stars, a further 36 smaller eateries and stalls with the bib gourmand distinction and another 70 eateries with the Michelin Plate distinction (allowing them to post the distinctive red Michelin sticker on their front doors).
04/18/2019 Update: the list has grown in 2019 to 24 starred restaurants, 58 bib gourmand, and 79 The Plate Michelin. See the complete list in The Michelin Guide.
---
If you're looking for refined, delicious Michelin- Starred Chinese cuisine served family-style, the Guest House is the only Chinese restaurant to have earned two stars in 2018's inaugural Taiwan Michelin Guide. Located on the 17th & 18th floors of the Sheraton Grand Taipei Hotel, the extensive menu features Sichuan and Yangzhou noodle dishes with expertly balanced flavors created by a seasoned Taiwanese chef.
The decor is warm and inviting, with many of their tables arranged alongside the windows so that everyone gets a view, but partitioned for privacy. Private rooms are on the 18th floor.
I was pleasantly surprised by the attentive presentation of the small appetizer plates from the Guest House displaying delicate knife skills. From the pork tongue and ears to the shredded hundred-leaves tofu, everything was addictively tasty. I also chuckled at the playful naming in the English menu for certain dishes like "For Ears Only" was pork tongue wrapped in pork ear, and a play on a Chinese idiom for gossiping (because when the tongue gossips, it's for your ears only).
Other must-orders include an upscale version of Taiwanese sesame oil chicken over rice, as well as chicken and Jin-Hwa ham in an oversized bubbling clay pot, which is worth both the price tag and the required advanced reservation. The Guest House's version of this dish is pure next-level comfort food with its milky rich chicken broth and two-step presentation, and would be more satisfying on a cold day than the fussy set menu.
📍 The Guest House
Address:No.12, 1st Sec., Zhongxiao E. Rd., Zhongzheng Dist., Taipei City
Opening:11:30 - 14:30, 18:00 - 21:30
The Guest House will be updated to FunNow recently! Keep following FunNow for booking more Michelin restaurants!
---
If your ideal Michelin meal is an omakase, then definitely add Sushi Ryu to your list. Sushi Ryu is a sleek and elegant sushi bar with 16 counter seats in the Zhongshan District. While Sushi Ryu garnered its first Michelin Star a mere six months after opening in Taipei, its owner/chef brings his years of experience from the city's highly-rated Sasa Sushi.
I was very excited to try Sushi Ryu as it wasn't on my rotation of usual sushi bars. Needless to say, I was quite impressed. The sushi and sashimi were exceptional, with distinctive touches such as smoked sawara with finely diced onion and ginger atop, or negitoro sushi made with chopped tuna neck with crunchy pickled daikon. The botan ebi, briefly grilled in the shell before being peeled and seasoned, was a favorite of mine, with it's delicate rawness blending with just a hint of smokiness.
Though seriously attentive to his work, Chef Yang made friendly conversation with the different diners in the room, speaking Taiwanese to some frequent customers. He also obliged when I asked for the names of the fish in Japanese instead of Chinese. The atmosphere for Sushi Ryu is hushed, and at times I felt self conscious speaking above a whisper. Along the long counter, Chef Yang and his two apprentices were focused on balancing the pacing of each omakase for the diners, even telling us that he would slow down our sushi since my friend was talking instead of eating and leaving pieces on the plate for a few minutes (a sushi chef no-no). Pricing is on the higher side starting at NT$4350 for lunch omakase with 11 pieces, but worth splurging (if you can even get a reservation).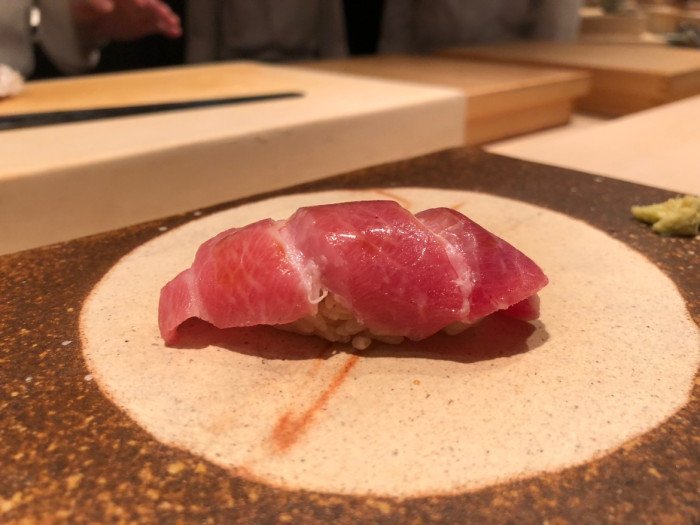 ---
If you're looking to impress a dinner date, look no further: Headed by chef Gildas Perin (who brings his years of experience at Michelin-starred restaurants in France as well as Yannick Alléno's STAY Taipei), Orchid serves a Modern French tasting menu with Taiwanese hospitality in a distinctive setting.

A huge golden ring stands at the entrance of Orchid, and gold ribbons floating above offer *pops* of bling against the dark black walls and tables. The first thing I noticed sitting down were the individual USB chargers at each seat and the blue rings that flickered on and off when I lifted my drinking glass. Diners can get a sneak peek into the kitchen through the large viewing window separating kitchen and dining area, or if they like, they can walk into the kitchen itself to enjoy their first course.
I love the idea that every customer can have their amuse bouches (a French term meaning "to amuse the mouth") inside Orchid's kitchen. Special touches like these make every customer feel like a VIP, creating an experience beyond just the flavor and presentation of the food itself. Even the bread and butter that kicked off the meal felt like a special treat, with three types of delectable French butter (lemon, vanilla, and Taiwanese oolong tea) served from a tableside cart. I was able to resist smuggling the remaining butter home, but only barely.
Besides the first bites (including cucumber, egg foam and beet, each served from an individual wooden spoon), highlights included the local blush shrimp on a bed of Pingtung onion cream with lobster jelly hidden underneath a thin black squid ink wafer, and a lobster dish from the dinner menu, tender but sweet with a fragrant broth accented with coconut jelly, kaffir lime, and grapefruit. (NT$2388 lunch/NT$3600 dinner)
About his menus, Chef Perin says, "Orchid is deeply rooted in French cooking, respecting solid and traditional methods of sauce making. Around these roots we evolve, using our environment and the changing seasons of Taiwan. This is our feeling of time and place."
---
See more Michelin restaurants on FunNow, the official partner of《Michelin Guide Taipei 2019》
👉 The Plate | Monsieur L Restaurant
---
👉 FunNow - Fun On Demand 👈
▶︎ APP:Download